CrossRoads "Arduino" inspired designs. Need something custom? Contact
robert@crossroadsfencing.com
Mega Screw Shield. 86 screw terminals to let you securely connect your signals and your shields. Now with 12x20 Prototyping area.
$35 each kit. $50 for assembled boards. US flat rate shipping $5.25. International: please ask for your country.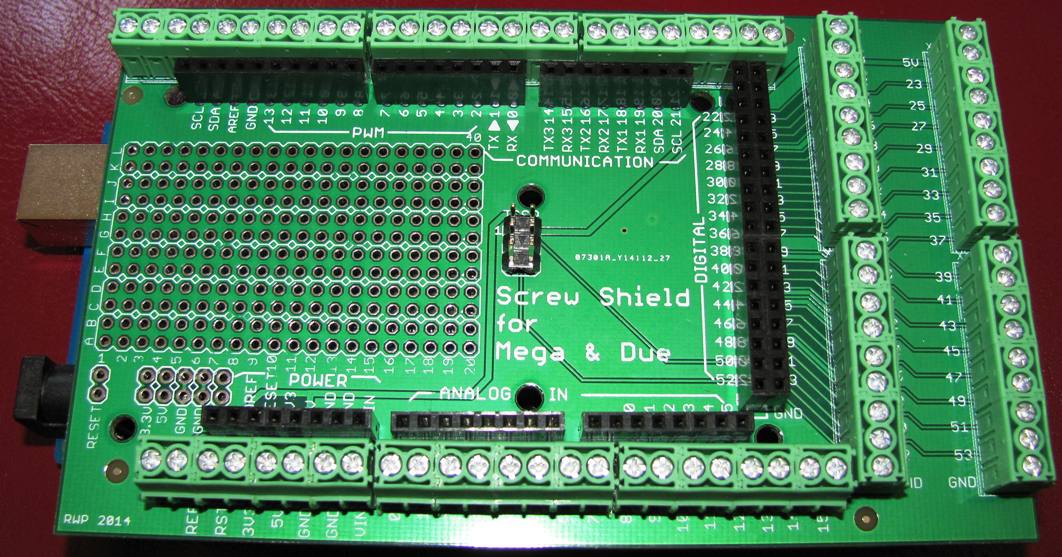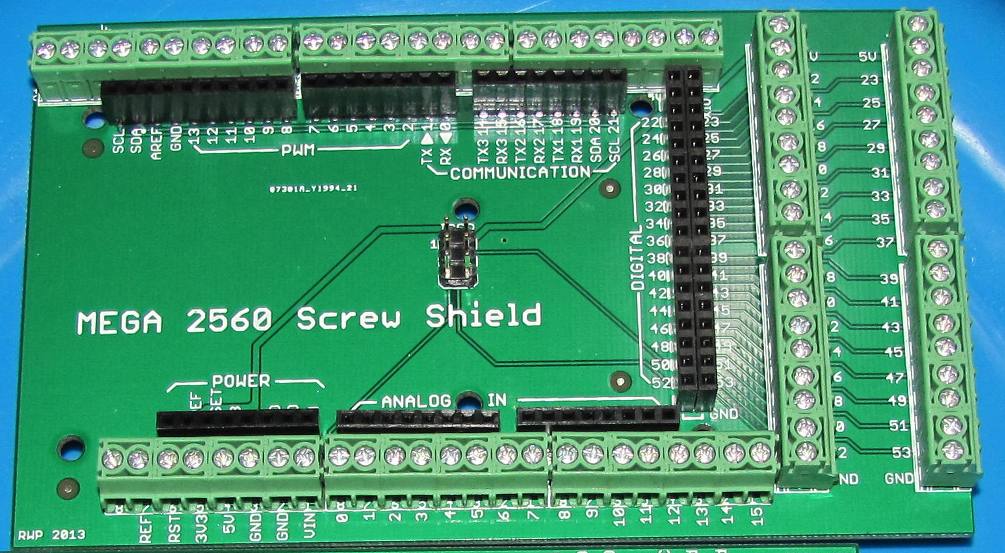 Newest card - MAX7219 daisychainable breakout board for up to 64 LEDs. Breaks out 2-pins for each LED, connect them up & spread out however you'd like - big display, a globe, etc.
Kits for board as pictured with all headers, $12 to US addresses, includes padded envelope shipping via USPS & paypal fee. Assembled boards available for $25. Larger quantities will ship in a flat rate box. International shipping - contact us for prices.
I used male-female terminated wires & crimp housings to make this little jumper cable to drive the board with SPI transfers. shiftOut and other MAX7219 libraries will also work.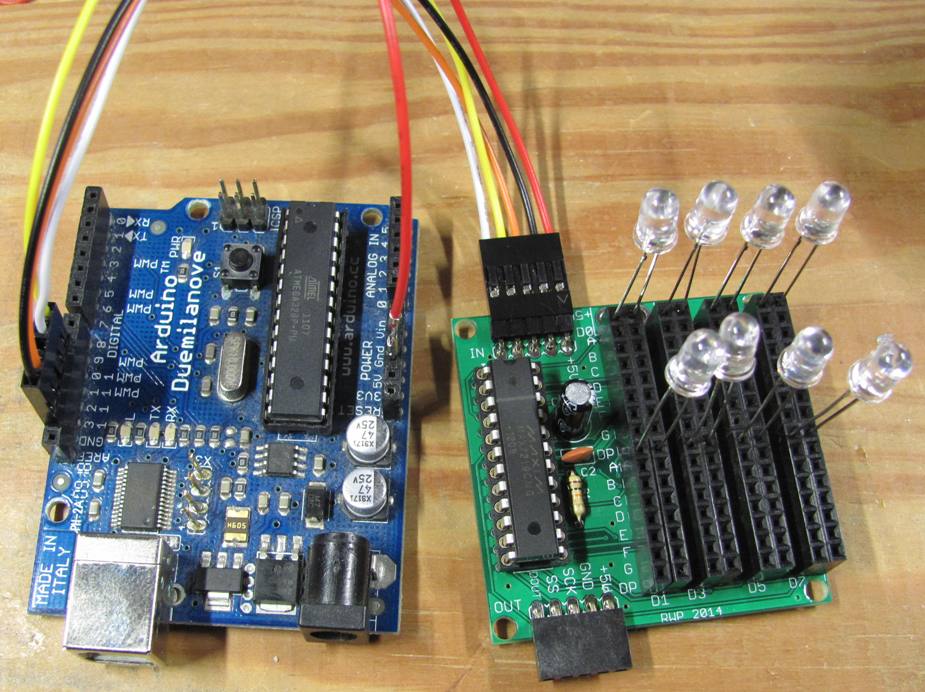 I was asked a couple of times if there was an Uno version of the Mega Screw Shield. So I finally made one up. It looked kind of empty, so I added a prototyping area.
Here are some pics of the shield on an Uno and on a Mega.
The board is 67mmx77mm, has each header pins brought out to a 3.5mm pitch screw terminal, and to a pin in the 12x20 protoboard area, and the ICSP header will support ICSP connectors from other shields.
I bought 10 PCBs to try them out - I can send them out as kits for $14.50 each, in a padded envelope will be maybe $3 for shipping, or flat rate boxes for $5.35. Foreign shipping in padded envelope around $8. Assembled boards, add $5, will be shipped in flat rate boxes only.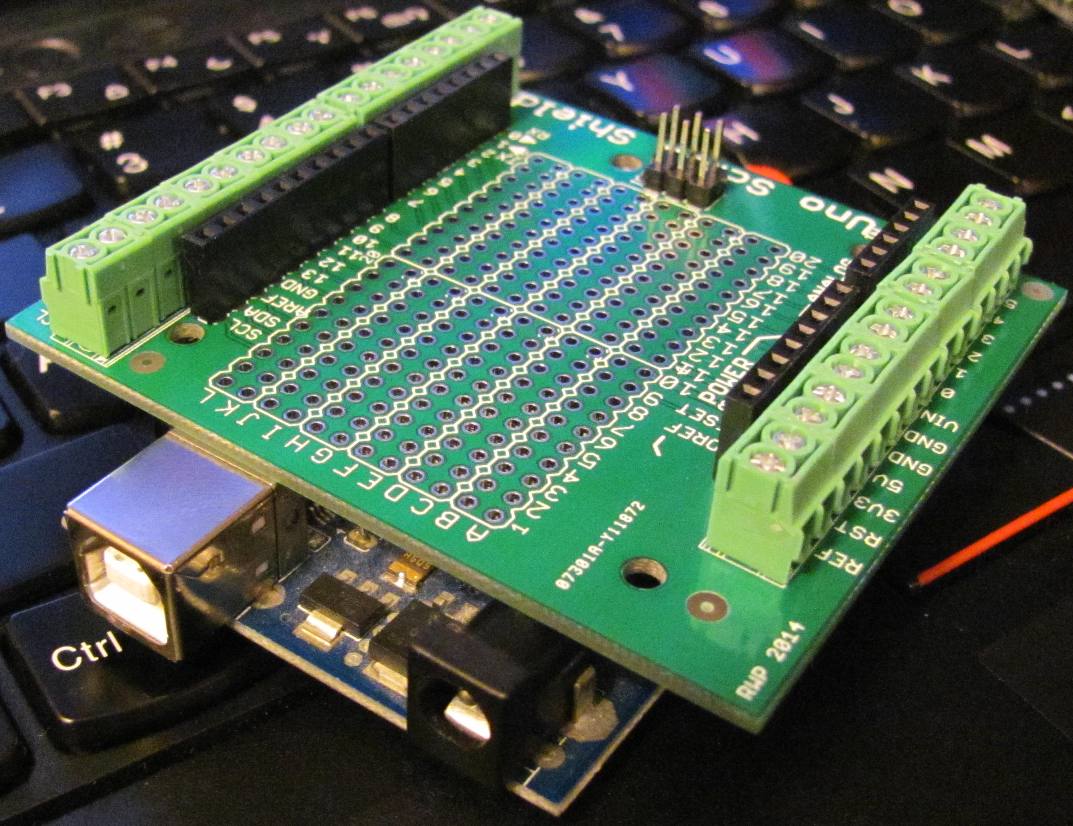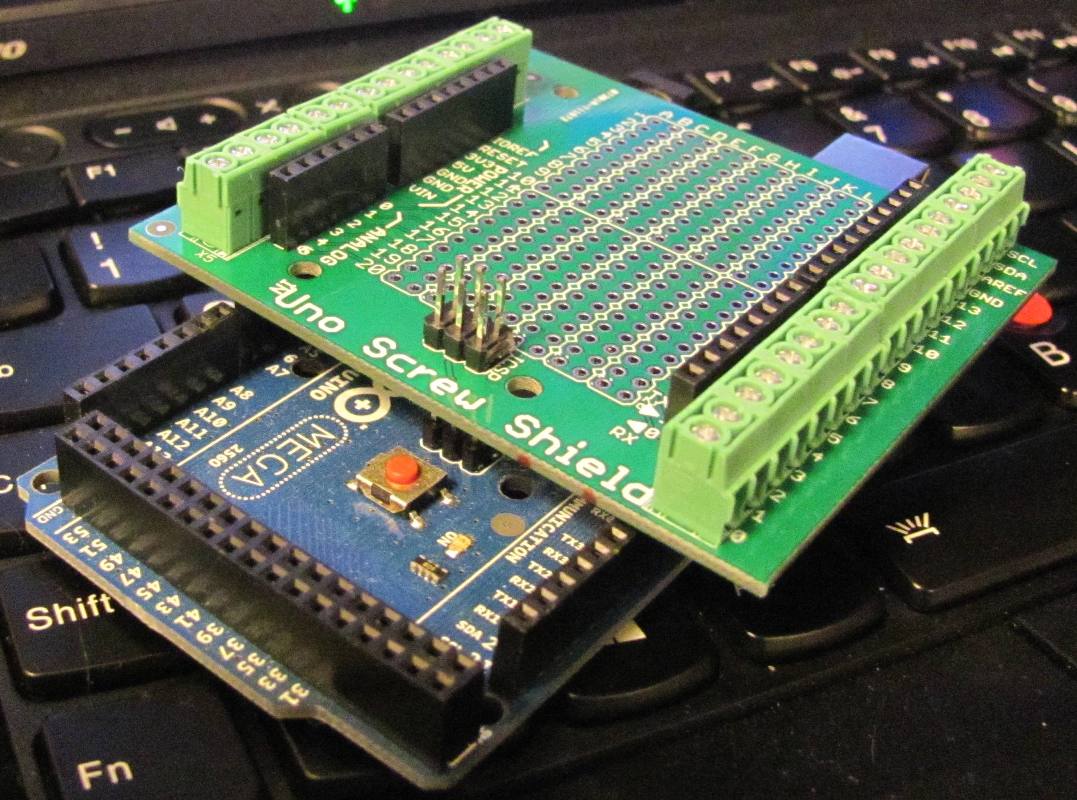 ATMega1284P Duemilanova-style board with mostly thru-hole components. Designed for easy assembly.
Bare boards $5. Kits less the MIKROE-483 USB module $22, most folks go with offboard FTDI module to 6-pin header. $5.25 for USPS mailing to US address.
Assembled boards available upon request. Schematic Layout Assembly PL for the ATMega1284P Thru PCB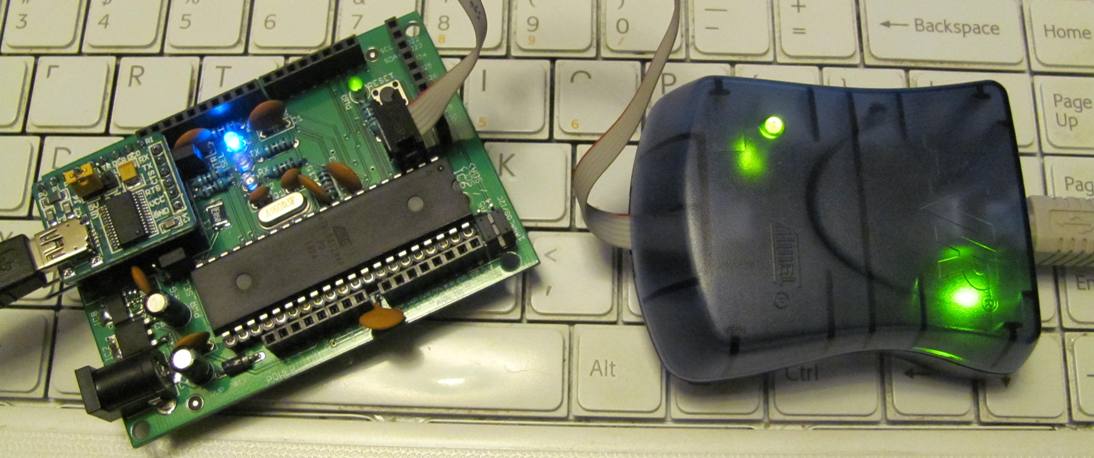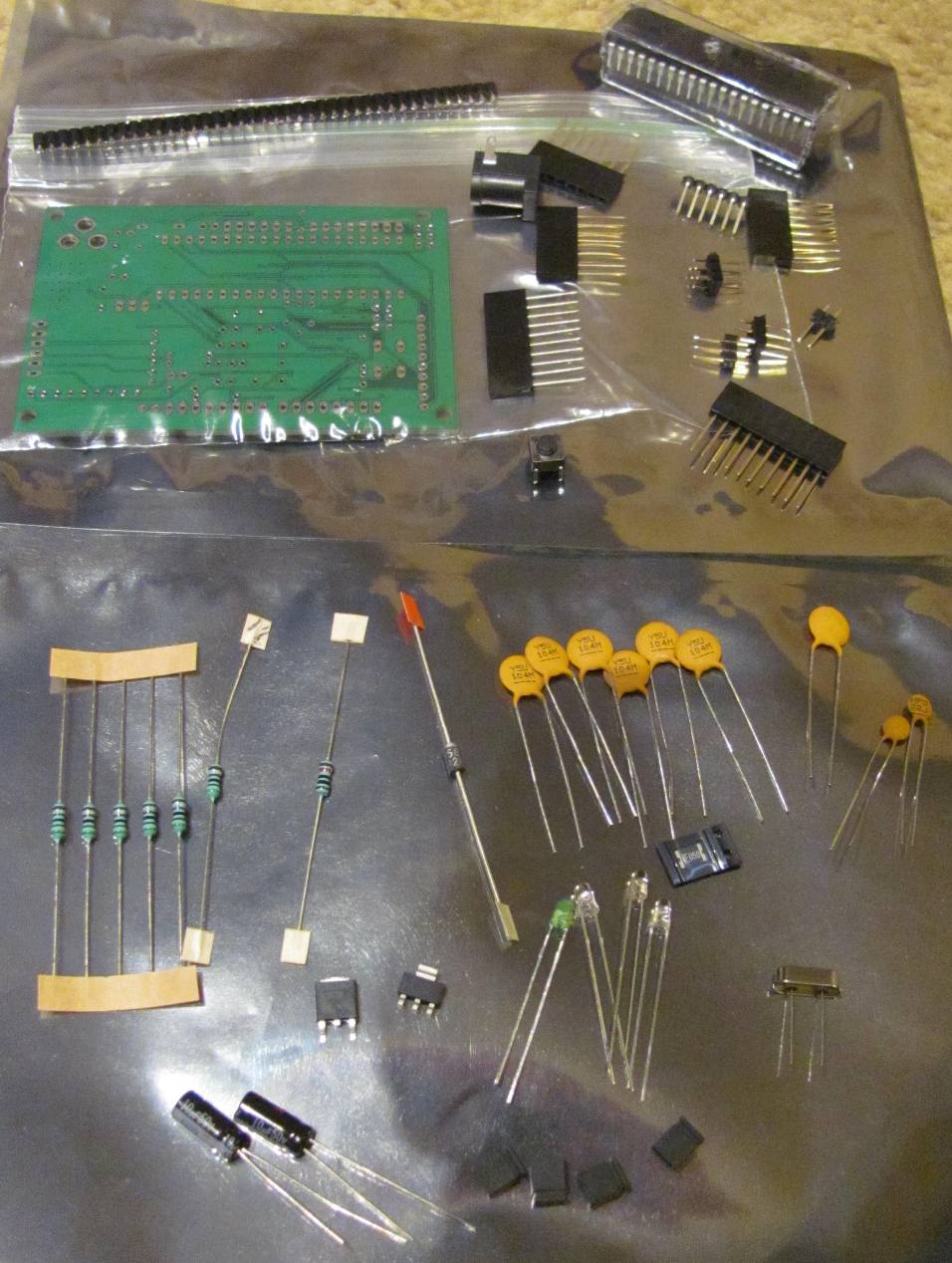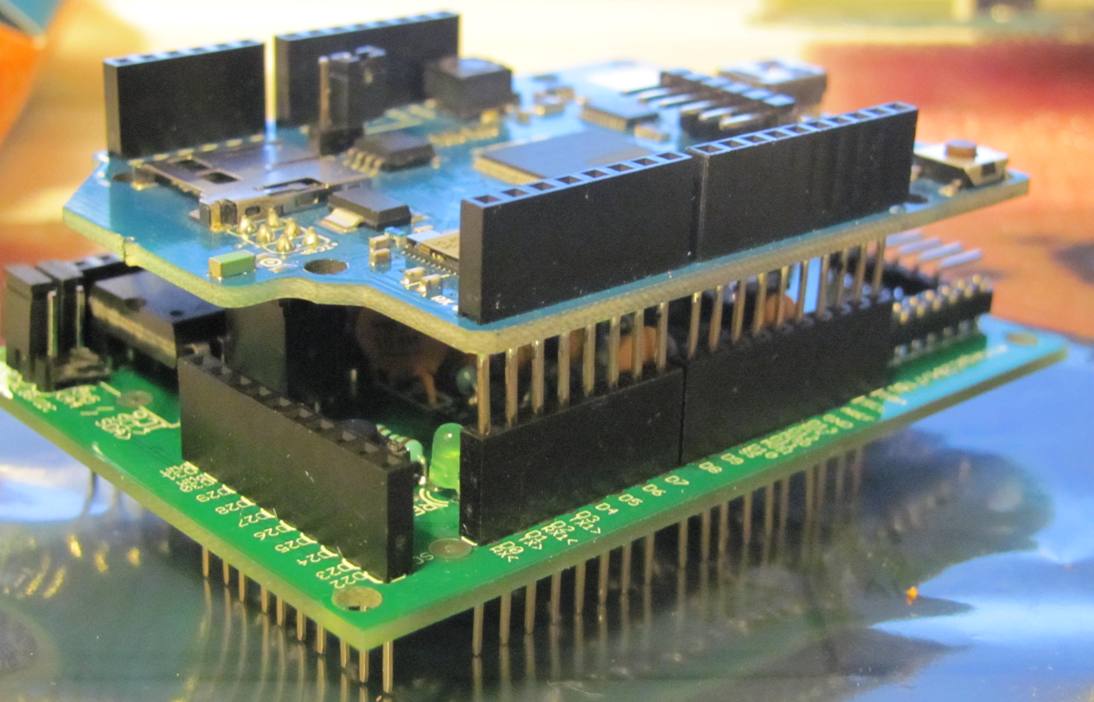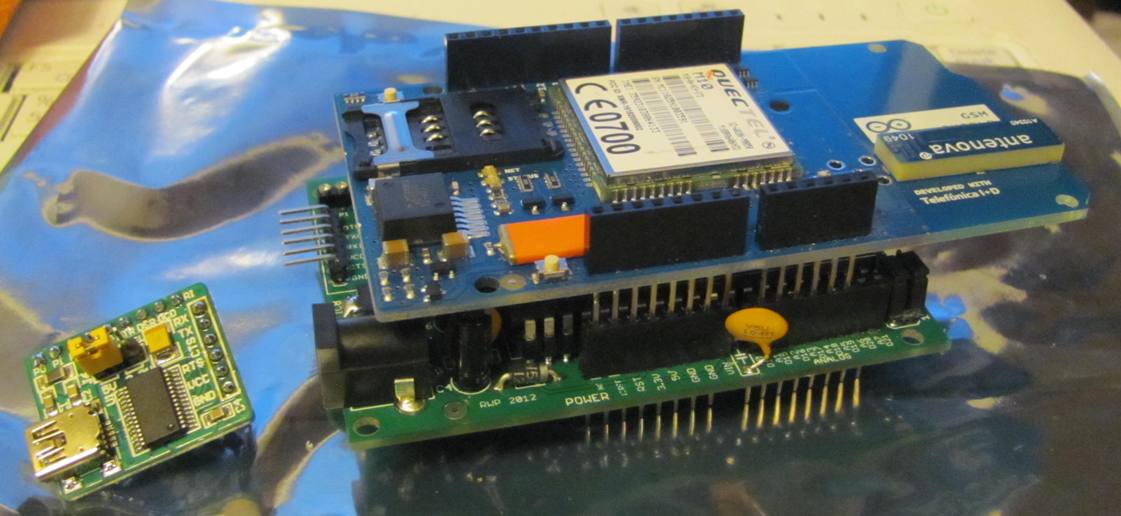 12-digit, or 96 Bit, LED driver, using TPIC6B595. Bare boards, $5. Kits, assembled boards, available upon request.
Video of two cards with 10 driver chips each controlling a Nike Fuel Band display courtesy of ACSComposites
Schematic Parts List (eagle export)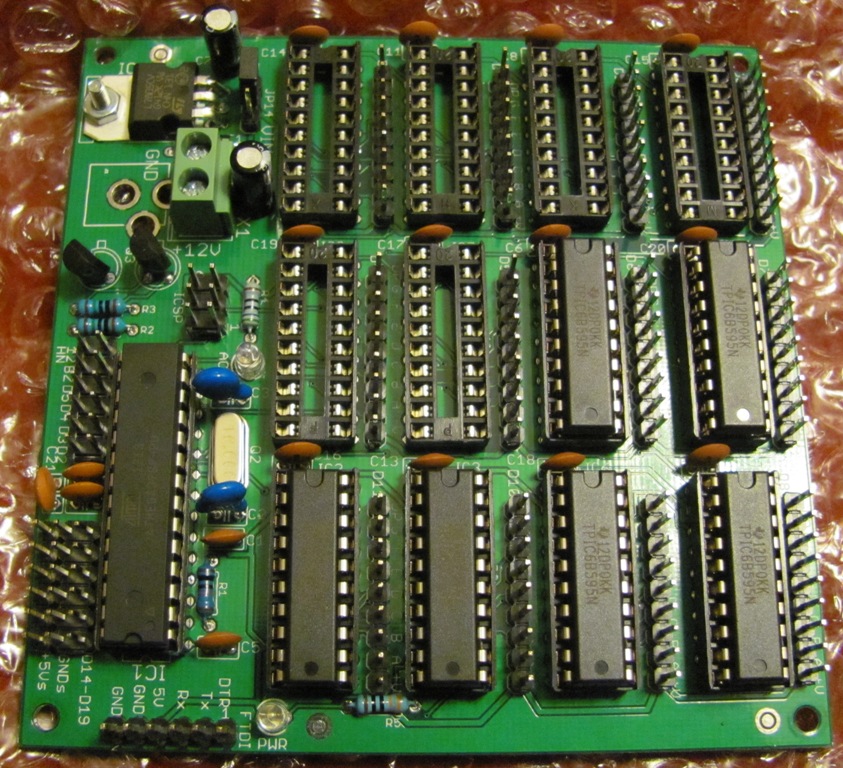 Dual ATMega328P Board! 40 IO pins. Headers to connect USB/Serial adapter, ICSP, jumpers to connect MAX232 for Serial.
Add some jumper wires for chip-to-chip SPI, I2C, or UART-UART comm's. Bare boards $5 mailed to US locations. Kits, assembled boards, available upon request.
1284Mini. ATMega1284P-AU with 32 IO, Dual Hardware UART, 128K FLASH, 16K SRAM. Schematic, Layout, PL

Bare Boards $3, Kits available upon request.

Core Files for Bobuino '1284P Boards replacement Pins_arduino.h to put in Bobuino variant folder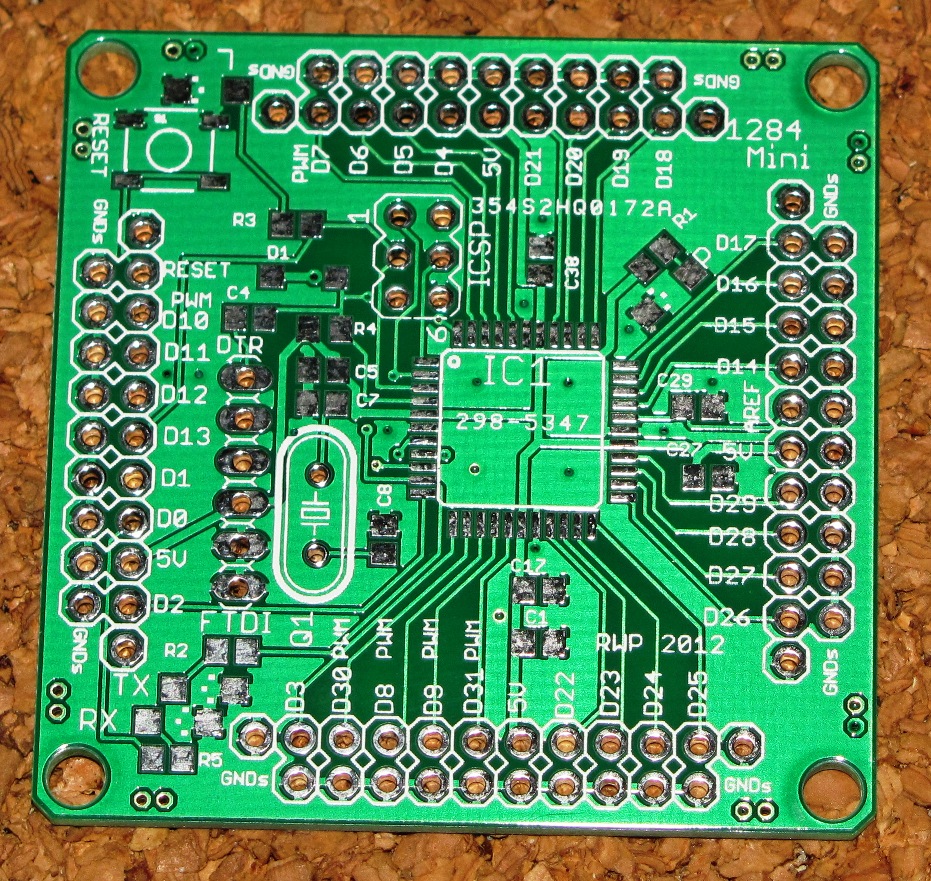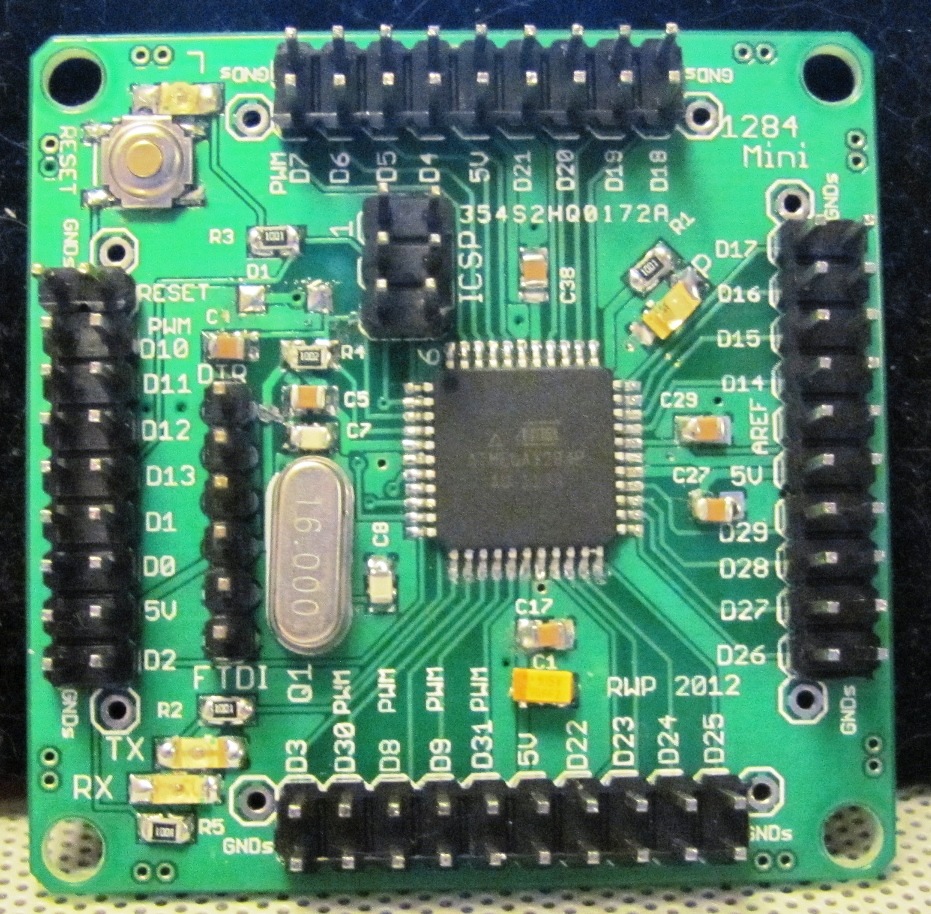 The Bobuino! List of Bobuino Rev17 features.pdf (opens in new window)

Shipped to your US location for $80.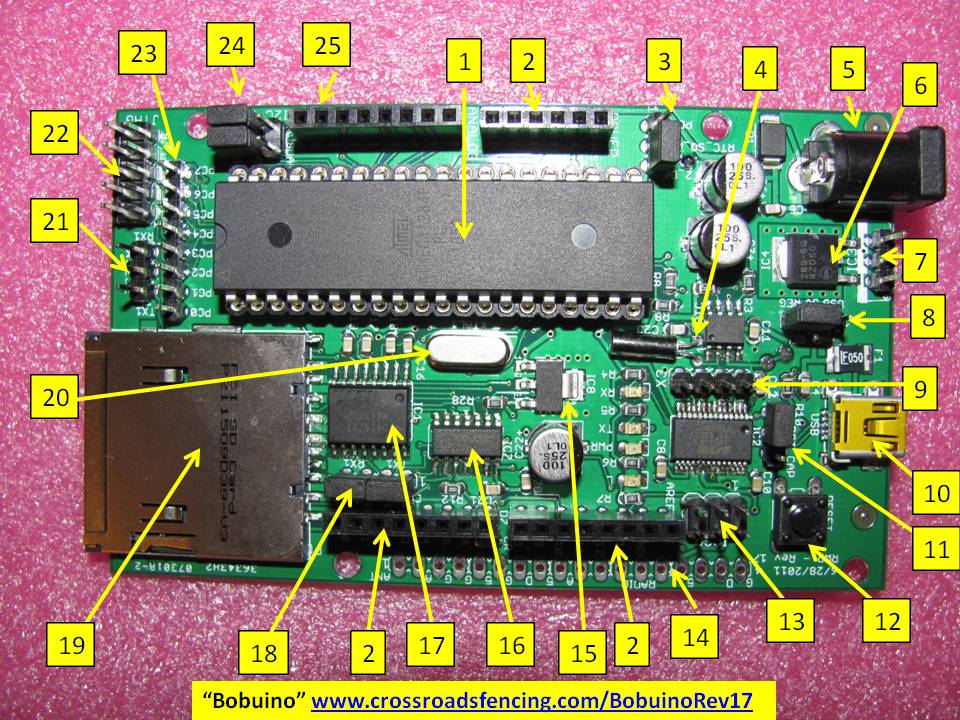 '1284 with LiPo charger, Arduino style headers, Xbee socket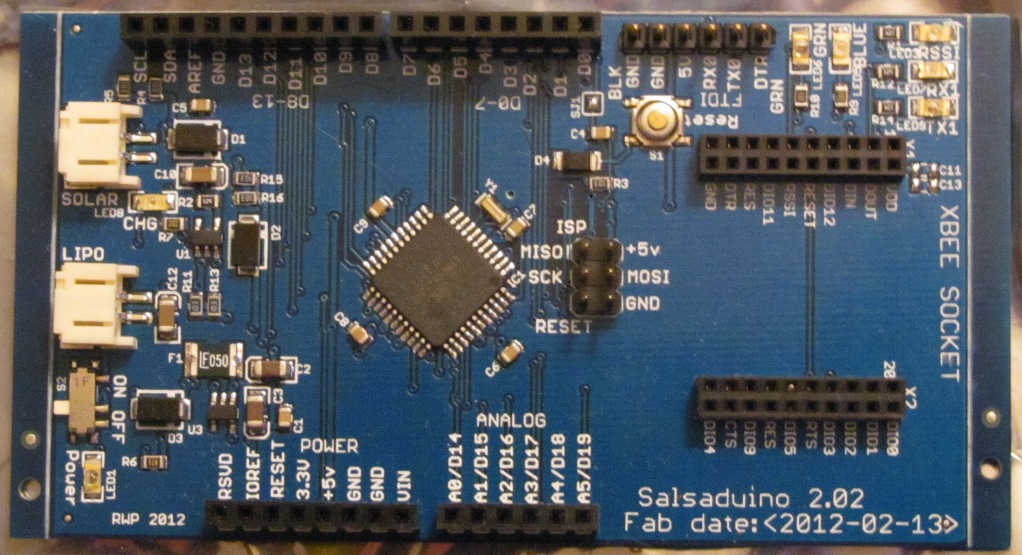 Leonardino ("Little Leonardo") ATMega32U4 providing USB interface, with uSD socket on the bottom. Bare boards $3.
Schematic Parts List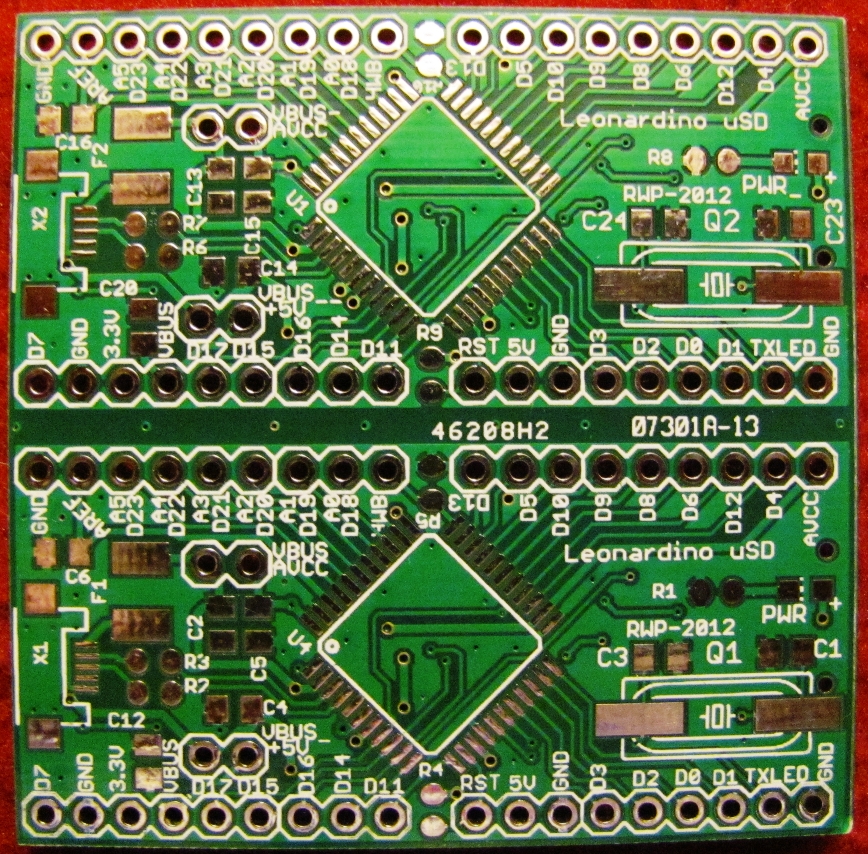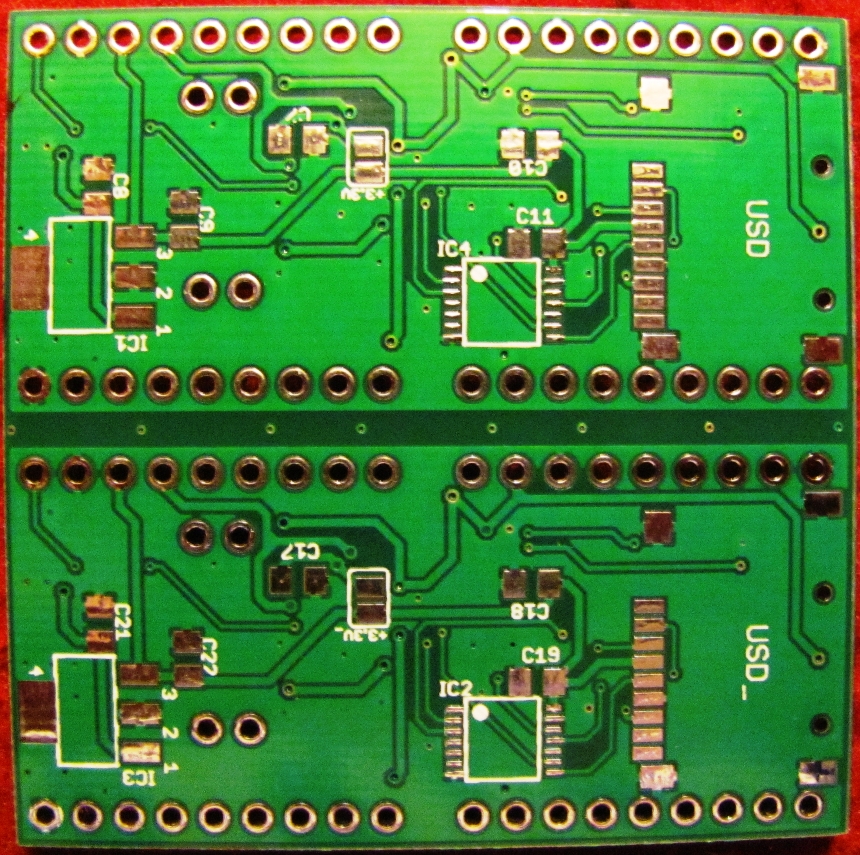 12x8 LED Multiplexed Matrix Driver With USB/Serial Adapter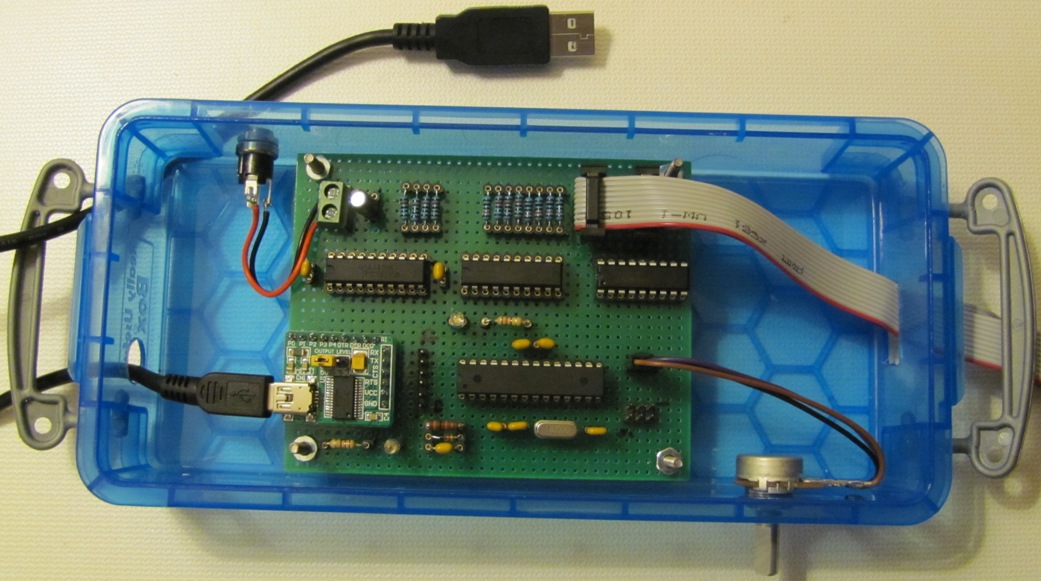 ATMega1284 Test Board, ICSP & FTDI Headers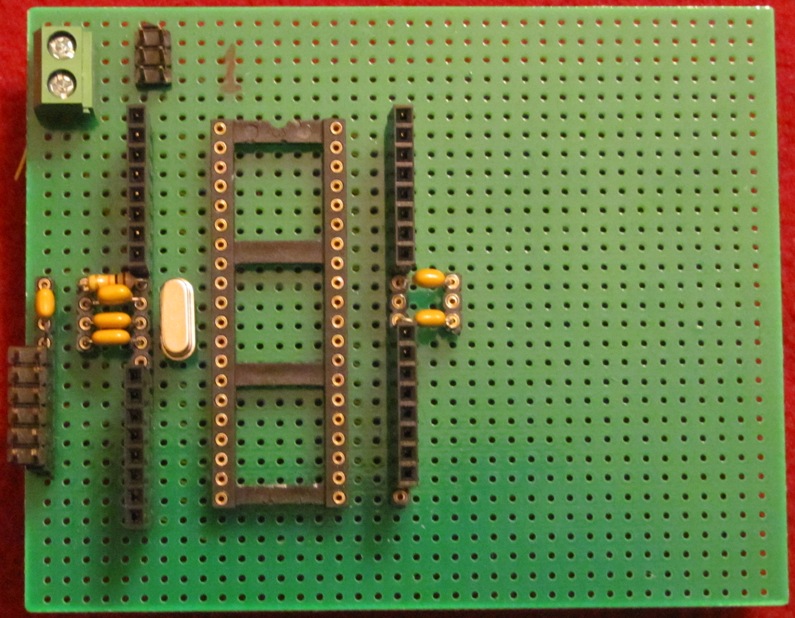 Relay Board with '1284, RS232, USB, directly driven relays.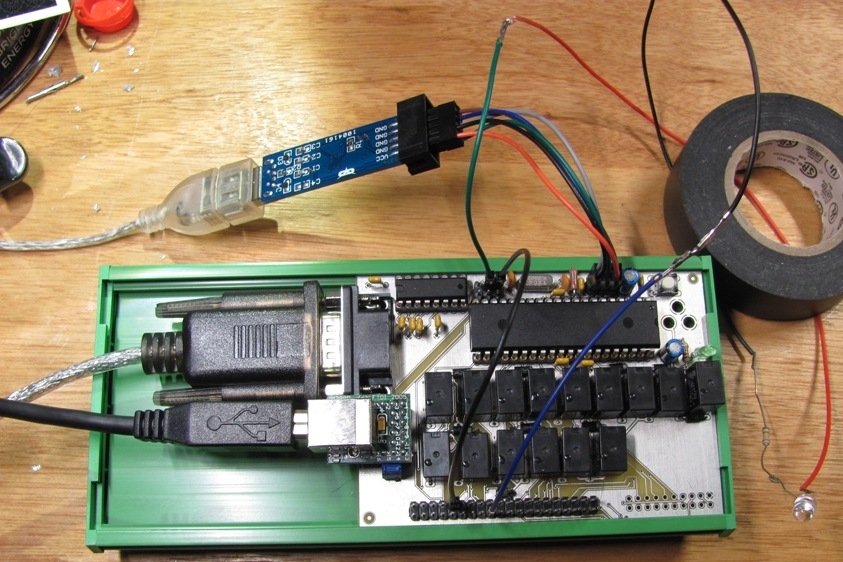 OnTargetMarine, RPN4
Similar to Bobuino; ATMega1284, RS232 port, FTDI FT232RL USB, SD Card Socket, Screw terminals for 4 serial ports, power, 2 input buttons, 3 switch closures, additional SPI-Dual UART with RS485 interface drivers, 3 additional Status LEDs, Arduino shield compatible.
Fencing Scoring Machine and RF Remote Control
Smaller Fencing Scoring Machine
"Mini-uino", ATMega328P for very small Arduino clones, 1.3" x 1.3". Bare board $3. Kits, assembled board available upon request. Mini-uino parts

"Digituino", designed to Drive higher voltage (12V) Common Anode 7-Segment Displays, using TPIC6B595, with RS232, SD card socket, ATMega328P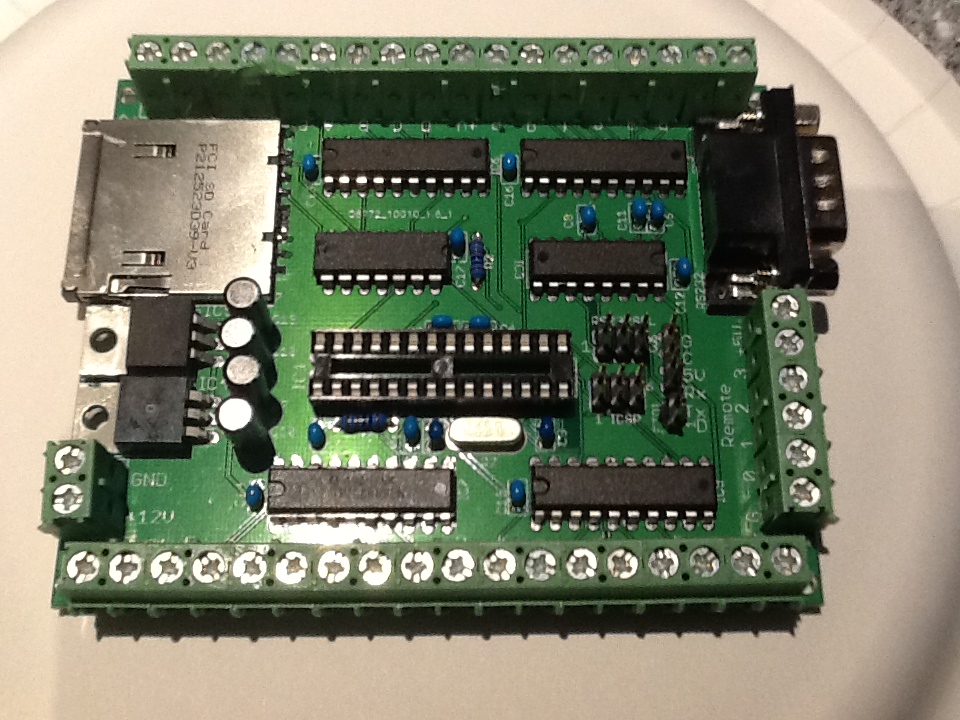 To reach Head Coach Robert, Click here robert@crossroadsfencing.com
For General Questions, Click here
info@crossroadsfencing.com
© 2012 Cross Roads Fencing Center, LLC. All rights reserved.